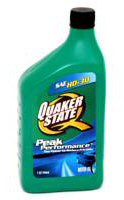 Does your car need an oil change soon?  then this is the deal for you.  Menard's has Quaker Oil on sale this week for $1.98 each and get a $0.50 Menard's mail in rebate on each quart (Limit 12).  You can see that Menard's rebate advertised in page 12 here.  In addition to that there was a manufacturer mail in rebate form in the July 12th Red Plum insert.  This rebate offer is to get $5 when you buy 5 quarts of Quaker Oil (limit one rebate per household).  To double dip on both offers you will need to ask for a second copy of the receipt at check out.
UPDATE: According to reader Wendy, you do not need to ask for two receipts as a Menard's rebate receipt prints at the bottom you your regular receipt.
If you didn't get this rebate form in your 7/12 coupon inserts I saw that the Coupon Clippers has them for $0.20 each only. It would be a good one to add to your order if you were planning on getting some additional coupons.
Thanks Lori!