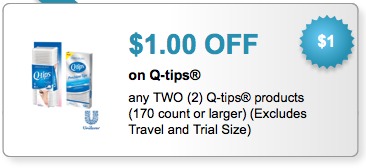 This Rare Q-Tips Printable Coupon is available on Facebook.  Like the Q-tips page and then click on the "coupons" link on the left and like the coupon to be able to get it.  I seriously dislike jumping through so many hoops for some of these printable coupons sometimes.  But you know what? Remember that afterwards you can always dislike the page.
You can grab the following deal at Walgreens this week:
Q-tips swabs 170-375 ct $1.99
Use $1/2 Q-Tips Printable Coupon
Pay $1.49 each when you buy two
That's not a bad price to pay and very close to other deals available at Target that usually involve buying multiple and getting a Target gift card back.  This one is simpler I think.  Check out other Walgreens deals here.
Thanks Coupon Pro!