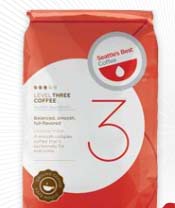 Today at 12 Noon, CST you can get a free sample of Seattle's Best Coffee on Facebook when you click on the "Declare Your Level" tab on their Facebook page. With 10,000 samples to hand out, I hope you can get one!
Other Upcoming Freebies:
(Today sometime), 4/13 The Skinny Cow is giving out freebies at 12pm ET to the first 700 people to sign up on their "Surprise" tab!
Friday, 4/15, between 11-10pm get FREE Curly Fries at Arby's
Monday, 4/18, between 6-8pm to get 2 FREE Cinnabon Bites (Thanks Chi-Town Cheapskate)
Tuesday, 5/10, between 4-8pm head to Haagen Dazs for a Free Cone, no coupon needed