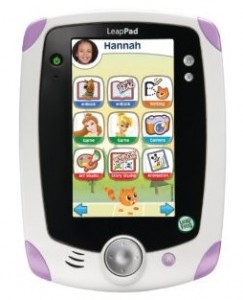 The new Leapfrog Leappad is a great durable tablet alternative for kids. This Leappad has provided them with learning games and their own little tablet to play and to hold. While it has also provided me with relief that they can play with it without me overly worrying about what will happen to it if they drop it.
My children have enjoyed all of the features in this leappad. It is a very neat little toy. The bigger screen that the leapster is a big plus. It makes it better for sharing the experience with siblings and also better for enjoying the toy itself.
A huge plus for me on this toy is that the games are interchangeable with the leapster games. That is a HUGE plus considering that we have put in a significant investment on those games and it is great that they can still use them on this leappad. I am very impressed with that decision by the makers of this toy.
The leappad is very easy to figure out even by little kids. I have a 6,4 and 2 yo and my two year old has had tons of fun with the camera and editing that you can do on photos on the leappad. And it has been great to see all three of them taking pictures and capturing video of each other.
However, in my opinion the leappad could be improved by adding an internal rechargeable battery. My children have loved playing with this toy which means they want to play with it often for long periods of time which means going through a LOT of batteries. Yes, rechargeable batteries are the alternative but they don't hold up very long. You can purchase a AC adapter as a separate accessory and that way children can play while the toy is plugged in. That is an alternative but it undermines the portability of the toy.
If conclusion great educational toy for children. But plan on investing on rechargeable batteries and getting the AC adapter.
Win it!
One lucky reader will win one LeapPad and three games – LeapSchool, Pixar Pals and Pet Pals2. To enter you can:
1. Leave a comment.
For additional entries (leave an additional comment for each one you complete)
If you are reading this entry on your RSS reader or email newsletter make sure to CLICK HERE to enter this giveaway. Emailing me is not a valid way to enter this giveaway. This giveaway is open to residents of the US 18 years and older. This giveaway ends 11/11 at 3PM EST
This giveaway was sponsored by Leapfrog. This Post was written by me and was not edited by the sponsor. Read more on my disclosure policy.