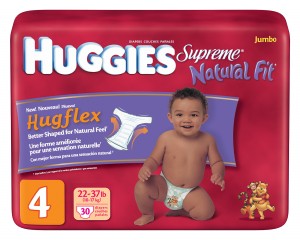 This week Rite Aid's hottest deal is cheap Huggies diapers. Here is how to get them for very cheap:
Transaction #1
Buy three Huggies jumbo packs of diapers $8.99
Use one $5/$25 Rite Aid coupon when you join Wellness + program
Use three $3/1 Huggies printable coupons
Use one $1/1 Huggies Rite Aid Video Value coupon (no longer available)
Pay $11.97 plus tax out of pocket
Transaction #2
Buy two packs of Huggies jumbo packs of diapers $8.99
Buy two packs of Stayfree pads $1.99
Use $5/$20 Rite Aid coupon
Use two $3/1 Huggies diapers
Use two $2/1 Stayfree coupon from the 3/28 RedPlum insert or $1/1 printable
Pay $6.96 plus tax out of pocket
Then submit for Single Check Rebate offer #53 get $2 back when you buy one pack of diapers. Also submit for offer #800 get a voucher for free packs of Huggies diapers when you buy five.  That's like paying $3.38 per pack of diaper PLUS you get the free voucher pack.
Moms Need to Know has the rest of your Rite Aid Deals.