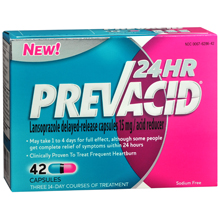 Here's a way to make some money buying a very expensive medicine (wish it worked that way for other medicines). Rite Aid sells Prevacid 24hr 42ct for $29.99. Combine it with coupons and a Mail in Rebate to get it free plus $13 in overage:
Prevacid 24hr 42ct $29.99
Use $3/15 Rite Aid printable coupon
Use $10/1 Prevacid February Rite Aid Video Values coupon
Use $4/1 Prevacid 24HR Product, exp. 3-27-10 (Parade 02/28/10) or $4/1 printable coupon
Pay $12.99 plus tax out of pocket
Then submit receipt for Mail in Rebate from 2/28 Parade Magazine and get $25.99 back by mail! Sounds like a good deal. Please note that some of you have left comments sharing that your Rite Aid won't let you use more than one printable coupon. There's no exception about this on Rite Aid's Official Coupon Policy.  Also, you may want to watch the Rite Aid Values video today as it is the last day to do so according to Shannon at for the mommas.
Thanks Karen for emailing me about this one.