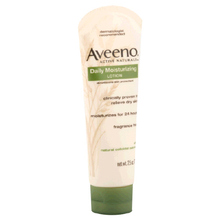 There is an upcoming deal on Aveeno Lotion at Rite Aid.  This deal starts 4/25 but it includes a coupon that's currently available.  Starting on 4/25 there will be a single check rebate offer: Get $5 back when you buy three Aveeno products. Then, next week there will be a Rite Aid in-ad coupon for $2/1 Aveeno.  Here's how to combine the coupons and the SCR to make money on this deal:
Buy three Aveeno Lotion 2.5oz $3.49 each
Use three $2/1 Aveeno in ad coupons
Use three $1/1 Aveeno Daily Lotion or from 4/24 SS insert
Pay $1.47 after coupons
Get $5 back via SCR wyb 3 Aveeno
Some Rite Aids will not let you use more than one in-ad coupon per transaction, so you may have to split your orders to get this deal. if you can only use one in ad coupon and don't want to split transactions then you will end up getting the three tubes of Aveeno lotion for 47 cents after coupons and SCR.
Thanks for The Mommas!