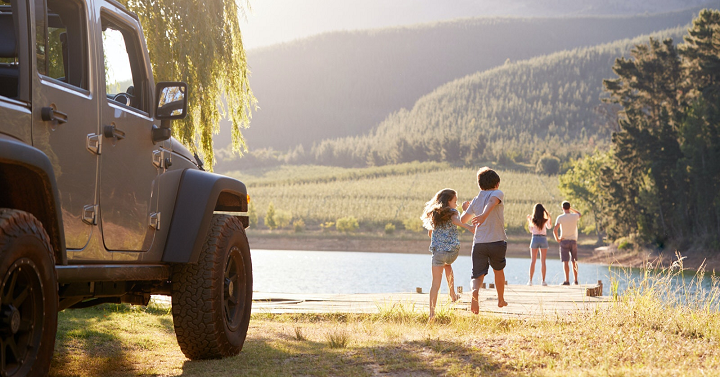 Summer is here! Although we've had to change many of our original family travel plans we're still packing up the kids and headed out on some adventures. We'll be stopping at some hiking trails, camping and going to the lake. For many of those destinations we have to travel anywhere from an hour on up to 6 hours so we're gearing up and making sure we're ready with this tips and tricks we've learned through the years.
Make a Car Sickness Kit – it was years before we realized our middle child would get car sick. It wasn't until she was 3 and throwing up when we'd go through the canyon we realized what was going on. So here's what goes in ours; fabreze, lysol wipes pack, mints, motion sick bracelets and gallon zip lock bags (great for catching throw up and closing off the smells!).
Plan to take Rest Stops – this was difficult for me. We grew up driving from Utah to Oregon (13hrs) with really only one stop mid way. If you needed to use the bathroom it was while the car was fueling up. But with little ones we've realized they do so much better if we take 10 minutes, get out of the car and run around at either a park or field.
Bring Healthy Snacks – this goes along with getting car sick. When you're in the car for that long, stationary, your body won't digest those sweet treats very well. So pack some lighter, healthier snack options for you and the kids. And, stick to water.
Find some Audiobooks to listen too – this will allow the kids to keep their eyes on the road (especially if they get car sick) and their surroundings. There are some fun kids podcasts you could checkout if you'll have service, or check with your local library for some books on "tape" to listen too.
Get Crafty with your Supplies – while having electronics is nice, we like to keep them away for as long as possible. So we get crafty, without the mess of coarse. We'll bring pipe cleaners, stickers, wikki stix, paper, colored pencils (we don't do crayons because if they get lost in the car and melt, they can be a mess to clean up) and other simple mess free items.
Don't Forget the Games – while it can be difficult to play board games you can easily play some road trip games that require no supplies. Like name that tune or movie, quiz time (great for keeping up on their school subjects), license plate game (see if you can find all the states), the alphabet game and more! If that's not your style, try getting a few road trip games before you leave.
Be Flexible – is my last tip. Road trips can be lots of fun but don't make them too stressful. Everyone will have a better time if you allow for a little bit of flexibility. Take an extra stop somewhere, pull the phone out and take funny pics. Find ways you can lighten the mood and make this memorable time enjoyable for everyone!