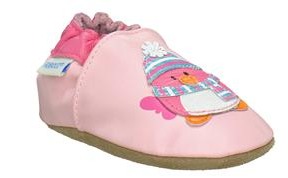 The additional 50% discount is over now.
Robeez is offerign an additional 50% off discount on all the items on its "Giftables Sale" section.  This includes Robeez shoes that are on sale for $14.99.  After the discount they are $7.49.  Plus Robeez offers free shipping when you buy two pairs of shoes.  So choose two pairs of shows from the Giftables Sale section and get them shipped for $14.99 total.
Thanks Baby Cheapskate!