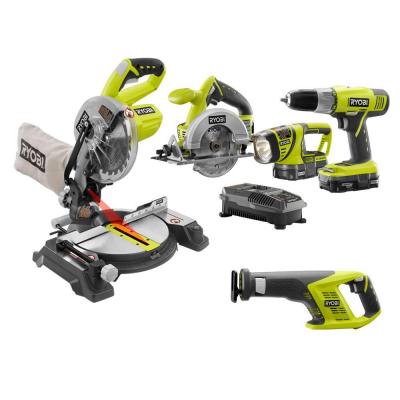 Home Depot has the Ryobi ONE+ 18-volt lithium-ion cordless 5-tool combo kit for only $199.00 right now! This kit includes:
Drill / driver
Circular saw
Reciprocating saw
Worklight
Miter saw
Two batteries
Charger
Carry bag
I think I paid $149 for my 4-tool kit on Memorial Day weekend, and it did not include the miter saw. (Bummer!) I've purchased two of these Ryobi sets so far, one for me and one for hubby, and I've never had one problem with any of the tools. (Yeah, we're a tool family…)
In fact, my son left the flashlight out in the tent last week when it rained, and we found it in a HUGE puddle of water. BUT, after letting it dry out, it still works!
You can also get lots of other tools, including a weed eater and electric lawnmower, to add to your collection. All of the batteries are interchangeable on these tools, which is nice.
In my experience, Ryobi makes a decent tool at a very fair price! I'd recommend them to any homeowner or DIYer!