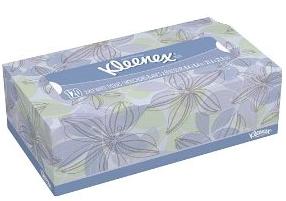 Safeway and affiliate stores are running the following catalina offer through this Saturday Oct 3rd: "Buy 3 boxes of Kleenex, Get a Catalina for $3 off your next order." Just in time to stock up for the winter, or evenfor the next school year.  Free Kleenex tissue is not an offer I see very often and this deal is very simple and easy to do.  The Kleenex is free even without a coupon:
Buy three Kleenex Tissue Boxes $0.99 each (like one pictured above)
Pay $2.97 plus tax out of pocket and get a $3 OYNO Catalina WYB 3
There's a manufacturer coupon for $0.50/3 from 8/2 inserts that expires today 9/30 and you may also be lucky to find a coupon in a coupon machine (blinkie) by the Kleenex for $0.55/3. There are also some tearpad coupons for Buy three get 1 Free. The best part is that this catalinas "roll." So you can use the first $3 catalina to buy even more Kleenex and spend cents out of pocket just to pay tax.
Thanks Saving with Shellie!