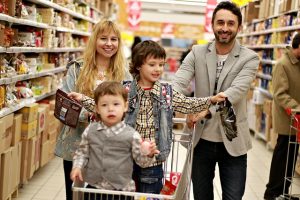 Are you tired of spending your life savings on your grocery bill?  I know I literally cringe every time I am standing in that checkout line and my total comes up.  I mean, I do have 3 children, but c'mon! It costs so much to feed our family and it seems like it goes up all the time.
I have found some ways around this though and if I can be of any assistance to you to do the same I am all about it.  Here are some of my favorite tips on how to save big on your next grocery shopping trip.
Coupons.  Look, I have been couponing and coupon blogging for a lot of years now and I don't always love couponing.  Sometimes I am just plain burned out on it. However, using coupons saves me on average, 20%-40% on my monthly grocery shopping bill so it is worth me having to deal with it.

Use your phone.  We are all always looking at our phones anyways, right?  Use yours to save money. Load your grocery store's membership app and load any coupons or deals to your phone so that you can save at the register.  The same as couponing, just easier!

Shop markdowns.  Don't be afraid to check out the markdown section!  Just this morning, I paid $3 for a big tray of country style ribs (my hubby's favorite), because I looked through the markdown section and was able to save big.  The sell-by date on these is tomorrow, but I am going to cook them tonight so that works for me!

Shop early.  In order to find the best markdowns, it is best to shop early in the morning because most markdowns are put out during the night shift. Getting there early means that you get the best choices!

Go meat free.  Don't be afraid to throw some vegetarian meals into your diet.  When you skip out on meat a couple of times per week you can easily save $20 or more per week!  This is a great way to add some big savings to your grocery budget.
What are your favorite tips for keeping your grocery bill in check?