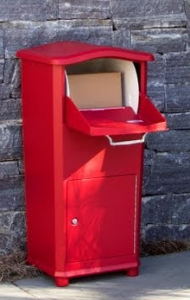 It has been estimated that consumers spend over $200 billion dollars each year shopping online…and that number is expected to increase even more. It can be argued that the majority of the money spent online is spent during the holiday season. During the 2013 holiday shopping season, from Black Friday through December 22nd, consumers spent over $40 billion dollars shopping online.
There's no doubt that online shopping has it's advantages. One of it's biggest advantages is that it can save you a great deal of money! It's not uncommon to find an item cheaper online, either on a store's website, a competitor website, or huge ecommerce websites like Amazon.
Sometimes, though, the cost of shipping can negate these savings. It would be nice if all online sellers offered free shipping, but it can be mighty expensive for companies to ship products to customers! Because of this, shipping costs can really whomp you at checkout!
With the holiday season creeping up on us, I thought I'd share a few of my favorite was to save money on or get free shipping…
1. Use Coupon Codes
Coupon codes are a great way to get free shipping when shopping online! Before checking out, make sure you take a few minutes to search for a free shipping coupon or promo code for the website you're shopping on. Just type in the name of the website and the words "free shipping" in a Google search.
2. Share Orders to Reach the Free Shipping Threshold
Many websites offer free shipping to customers with minimum orders. For instance, your Walmart.com order ships for free when you spend $50 or more. If your order falls under this threshold, ask a family member or friend if they also want to order something to reach the threshold and bag free shipping.
3. Pick Up Your Order at Your Local Store
If an online retailer is also a brick and mortar business, you may be able to pick up your order at your local store. Several retailers offer free store pickup on many online purchases. This includes Walmart, Target, Best Buy, and Kmart.
4. Follow Your Favorite Online Retailers
Many online retailers offer special promotions and sales, including free shipping days and free shipping codes. Sign up for your favorite online retailers' newsletters and mailing lists and follow them on social media. You'll be the first to know about any sales and free shipping offers.
5. Become a Member
If you shop at a particular online retailer often, you may benefit from becoming a member of any special shopper clubs they have to offer. Amazon Prime, for instance, offers free Two-Day Shipping, plus exclusive access to movies, music and Kindle books. Of course, this does come with an annual fee, but you can give it a try with a free trial first. Target REDcard holders also get free shipping as well as 5% off.
More Frugal Living Resources: