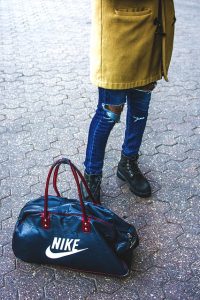 School will be starting soon, and I don't think any of us want to go broke buying school clothes for our teenagers, am I right? So here are some places that you can buy your teens stylish clothes, without going broke in the process.
Ross Dress for Less
Ross is definitely a great option for school clothes shopping for both boys and girls. They carry some really great brands and styles, and almost always at lower prices than you will find elsewhere. They have many different selections of clothing styles to choose from so you could shop there for the sporty teen, the girly teen, and pretty much any other teen.
Goodwill
Frankly, you really can't go wrong buying used clothing. Goodwill pretty much has it all. They carry pretty much all brands and clothing types, and they normally sell their clothing for a very reasonable price. Plus, every week there is a certain tag color sale which means that the clothing is 50% off of the marked price.
Plato's Closet
Again, used clothing is always a great way to go. Plato's closet is very selective of the clothes they choose to carry.   In order to accept clothing, it must be in great shape and only the best brands. There is a very big selection of clothes for both male and female customers. They always sell their clothes for a very good price, and they usually last a very long time.
Kohls, JCPenney, etc.
I know these stores probably aren't the first places that come to mind when you're thinking about shopping on a budget, but there's almost always great coupons available for all of these places. Plus these stores always have super cute clothes for pretty much any teen.  Be sure to check out their clearance too, which can often be stacked with coupons!  Cute clothes, coupons, and clearance, is there really anything else that you can ask for?