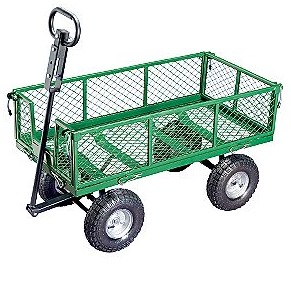 You can get this Gorilla 2-in-1 Utility Cart for $$69.99.  Pick it up in store to save on shipping.  We actually have this one in yellow and we've had it for a few years now.
Product Description

Suitable for all kinds of outside work, this 2-in-1 utility cart from Gorilla Carts features removable folding side walls, turning the cart into a flatbed in seconds. It features a durable 20 x 38 in. steel mesh deck, as well as all-terrain 10 in. pneumatic tires. The patented one-step pin removal quickly converts the pull handle to a trailer hitch for maximum on-site convenience. Maximum Load Capacity: 800 lbs.
Offer available 6/17 only.