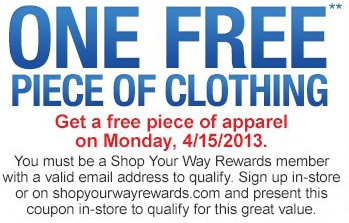 It's FREE Apparel Monday! If you are a Shop Your Way Rewards members (sign up here for free) you can get a FREE piece of clothing at your local Sears Outlet store when you print today's coupon.  To print your coupon go here, right click on the photo of the coupon select print picture or use the download button that is located underneath the photo on righthand side.  Check out their facebook page for further details.
See coupon for exclusions.  Only 50,000 available nationwide.
Find a location nearest you.  Just to let you know only 52 sites carry apparel so you may want to verify before you go.