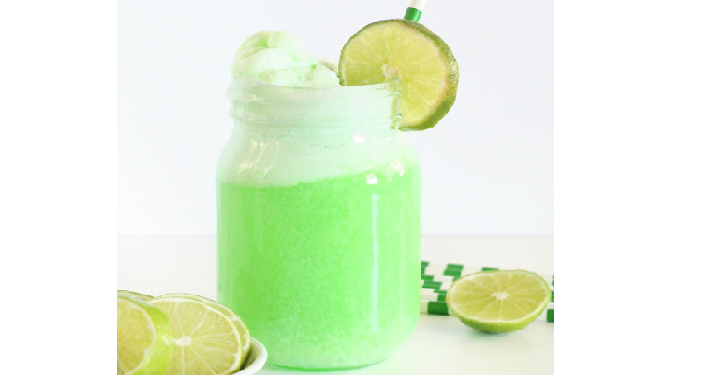 It's the month of green and leprechauns. My kids always look forward to St. Patrick's Day and I honestly don't know why. I'm not one to go all out for this holiday, I make it super simple. One thing I do like to do is have a few fun, different things we do that day. We eat Lucky Charms in the morning and then have some time of treat. I was looking at this yummy punch and new the kids would love it. It's simple and the perfect St. Patty's Day surprise.
Shamrock Lime Punch Recipe
(Recipe & Picture by The Crafted Sparrow)
Ingredients: 
7up or Sprite
 Lime Kool-Aid mix
Lime sherbet
20 oz. Can Pineapple Chuncks (We will use the Pineapple juice)
Directions:
Get a pitcher and make your Kool-Aid mix according to directions on the package. You can use only 1/2 sugar instead of 1 cup.
Add the juice from the 20 oz Can of Pineapple Chunks (you can save the chunks for smoothies another day).
Grab a drinking glass and put in two scoops of lime sherbet, fill the glass 1/3 way full of the Kool-Aid mixture.
Fill the rest of your cup with lemon-lime soda.
You can add more lime sherbet if needed.
Add a straw and a wedge of lime and you're done!