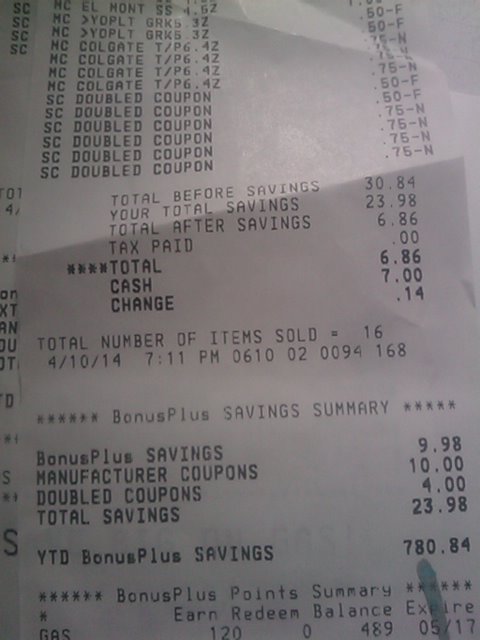 I made a couple trips to Tops Markets this week, mainly to stock up on Alfredo sauce and to do some shopping for my Mama. Overall, I got $68.90 worth of stuff for just $11.36 after coupons and SavingStar rebates.
I also got $.40 off per gallon of gas, but I really didn't feel like calculating that into the savings. After next week, though, I have a feeling I'll be doing a happy dance at the pump!
Here's a breakdown of some of my favorite deals this week. These were done in separate transactions on separate days, but I'm just lumping them all together for simplicity's sake.
Bought (12) Lloyd's barbeque single serve tubs @ $1 each ($18)
Bought (8) Colgate toothpastes 6.4oz @ $1.50 each ($12)
Used (8) $.75/1 Colgate *DOUBLED* (3/30/14 SS ?)

FREE!!
Bought (6) Yoplait Greek Yogurts @ $1 each
Bought  (10) El Monterey breakfast burritos @ $1 each
Bought (2) Lucky Leaf pie fillings @ $2.99 each ($5.98)
Bought (2) Newman's Own Cheese Salsa @ $2.50 each
Bought (6) Newman's Own alfredo sauce @ $2 each ($12)
Anyone else run across any awesome deals?