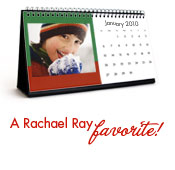 Look forward to every passing month as you flip through your personalized 2010 calendar with this deal: Snapfish is offering, as seen on Rachel Ray, a Buy 1 Calendar, Get 1 Free + A Bonus Free Flip Book! Runs till 12/16!
. Just use code RACHAELRAY at checkout.  The buy on get one free calendar offer is good through 12/16. The credit for the FREE photo flip book can be used at any time.
Also I wanted to tell you that today 12/13 is the last day to take advantage of the Free photo flipbook code from Good Morning America.  Visit Snapfish and create a 10 page photo flipbook for free.  Just pay shipping ($1.99) plus tax.  Use code GMAFREE at checkout. You can only use this code once per account. I used this code to make a flipbook to send my mother in law recent photos of the family. I just created the book online and had it shipped to her home directly. I thought that was a better alternative than printing photos, putting them in an envelope and mailing it myself.  Gotta love the convenience of online shopping!
Enjoy!