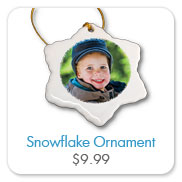 Register to Snapfish and Receive a $10 Credit to your Account.
What can you get with this $10 credit?  The following items sell for $9.99:  Collage Poster Calendar, Snowflake ornament and an 11oz White Mug.  The 5×7 Everyday Photo Books are only $11.99 each.  Shipping is not free but the gift would be.  This credit expires FIVE days after you get it.
This is what you need to do to get your freebie:
That's it!  No other steps required, except maybe wait in the comfort of your home for your freebie.
Happy Savings!