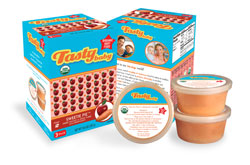 If you live in Southern California, then you are in great luck.  The makers of Tastybaby Food are holding their own Baby Bail Out and are offering a case of free baby book the week of 2/17.  This is almost a $40 value.  Tastybaby Food is made from 100% organic ingredients, is minimally processed and has no preservatives.  Their entire line is gluten-free, non-GMO and has no added sugar or salt.

Find out the details of this offer and what you need to do to take advantage of it here.
Thanks BabyGoodBuys!