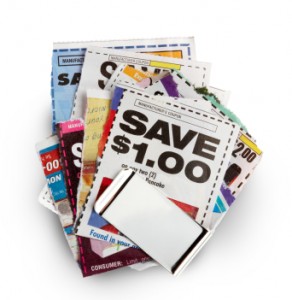 Saving boatloads of money is an awesome feeling! For the most part, it's totally worth it, but at times all of that prep can get a little hectic and tiring.
Experienced couponers know that couponing, while worthwhile, can really eat up a good portion of your week if you aren't careful. All of that planning, printing, clipping, and shopping takes time! Sometimes, though we may find that we're spending too much time couponing.
Been there, done that! Okay, some weeks I still send too much time couponing, but that's more of the exception than the norm these days. I've learned to really streamline the process and cut my couponing time in half with these tips!
#1. Limit Your Stores
I know how tempting it can be to run around to all of the different stores in your are to grab the best deals. Really, I do. But, is it really worth it? If you're spending too much time couponing, consider limiting your couponing trips to just one or two of your favorite stores each week. You can also have a "wildcard" store each week to account for any super hot stockup deals elsewhere.
#2. Plan Ahead
Now that you've narrowed down your main stores to just one or two, planning your shopping trips should take much less time! Skim through your favorite store's ads or check out the online coupon matchups for the week, make a list, and gather your coupons.
#3. Skip Newspaper Inserts
*
GASP* 
WHAT?! No coupon inserts?! Well, not for me. I found that one of the reasons I was sending too much time couponing had a little to do with all of the newspaper coupon inserts that I had to deal with each week. Not only would I have the current week's inserts to dig through, but I also had all of the inserts from the previous weeks. It would take me so much time to look for the correct insert, search through it, and carefully clip the coupons that I needed. I'm sure some people insanely fast and efficient with this process, but I have come to the realization that I am
not
one of those people. These days, I deal with
printable coupons
only. It's just so much easier for me. Occasionally, I'll purchase a pack of insert coupons from eBay or a coupon clipping site, but that's only on weeks when I can get an amazing deal on something we use frequently.
#4. Keep Separate Store Envelopes
Or folders, or tabs, or whatever you use to organize your coupons. One of my stores, for instance is CVS. All of my ECB and CVS store coupons go in this envelope. I also keep weekly lists in the envelope and add coupons to the envelope as I find deals in the CVS coupon matchups. When I'm ready to make a trip to the store, I can just grab my envelope and go.
#5. Know the Aisles
If you don't know the layout of the store, it's going to take you much longer to find the items on your list. If you're new to a particular store, take some time to get to know the layout and what's in each aisle. Jot down the aisle numbers and contents during one of your trips, or snap pictures of each aisle sign with your phone.
Do you find that you spend too much time couponing?