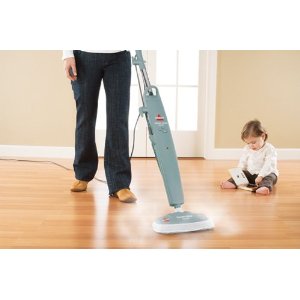 OK, this giveaway is a bit selfish on my part.  See, clean floors are a bit of my obsession.  Clean floors make me happy and dirty floors stress me out.  As a result I have always been on the hunt for the solution to help me get clean floors.  With two dogs and a baby that that will be crawling soon, this solution needed to be safe for them.
I have been using my Bissell Steam mop since September of last year and I have never been happier.  I just love it and I love it so much that I think you should be given a chance to win one.  Maybe it is because I think is the thing that could make any mom's household work easier and who couldn't use that, right?
So, in this giveaway one lucky reader will win one Bissel Steam Mop Deluxe. This is what you need to enter this giveaway:
1)  Share with me what part of household work makes you happy: maybe it's the look of folded towels in your linen closet or smelling freshly laundered clothes.  I don't know, hopefully there is something that brings a smile to your face when you are getting your chores done.
For additional entries:
2)  "Like"  Common Sense with Money on Facebook.
Leave a separate comment for each additional entry, you know the drill. If you are reading this entry on your RSS reader or email newsletter make sure to CLICK HERE to enter this giveaway. Emailing me is not a valid way to enter this giveaway. This giveaway is open to residents of the US 18 years and older. This giveaway ends 4/29 at NOON EST.
Disclosure:  This giveaway is sponsored by me.