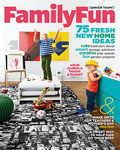 If you're looking for ways to keep the little darlings entertained this summer, I highly recommend Family Fun magazine! It's packed with parenting advice and tips as well as lots of great ideas for spending time as a family.
Today only, Best Deal Magazines
is also offering a one-year (10-issue) subscription to Family Fun magazine for $3.99
. That's a pretty great price, but you can get an additional 15% off when you use the code 15CJ0601 at checkout and pay only $3.39!
Keep in mind that this deal includes auto-renewal, but you can cancel your subscription at any time.