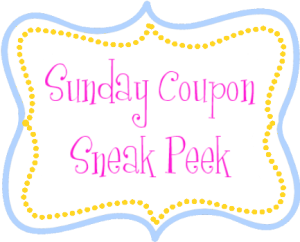 (Thanks to Sunday Coupon Preview for helping to provide this list! Remember, though, that this list also isn't set in stone, since coupons and inserts vary by region and paper. If you need more coupons, be sure to check out our coupon database! You can also print coupons from Coupons.com, Red Plum and Smartsource.)
This weekend you can expect up to three inserts in your weekend paper – two Red Plums and one Smartsource. Here are a few deals you might find, but be sure to check Sunday Coupon Preview for a more detailed list!
Red Plum #1
$7 in Gillette coupons
$2 in Giovanni Rona pasta coupons
$5 in L'Oreal coupons
$6 in Purina coupons
B2G! FREE Purina coupon
$12 in Suave coupons!
Red Plum #2
$3 in Aveeno coupons
$3 in Clean & Clear coupons
$4 in Motrin coupons
$4 in Sudafed coupons
$1 in SuperPretzel coupons
$10 in Zyrtec coupons
Smartsource
$18 in Clairitin coupons
$4 in Colgate coupons
$1.75 in Kraft coupons
$4 in Rachel Ray dog food coupons
$5.50 in Starbucks coupons
Thanks again to Sunday Coupon Preview!