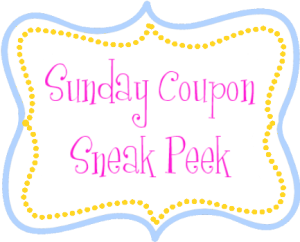 (Thanks to Sunday Coupon Preview for helping to provide this list! Remember, though, that this list also isn't set in stone, since coupons and inserts vary by region and paper. You can also print coupons from Coupons.com, Red Plum and Smartsource.)
Finally – an awesome week for coupons! This weekend you can expect up to FIVE coupon inserts in your Sunday papers – 2 Smartsource, 2 Red Plum, and 1 PG.
Normally I do a quick roundup of what you might be able to expect, but this is such an awesome week, I wanted to list them all! If you're hoping for something specific, you can quickly search this list by pressing CTRL+F on your keyboard and typing in the item or brand you're looking for.
Keep in mind that coupons are regional, so you may or may not receive the exact same coupons listed here, but this list is a good indication of what you can expect.
Smartsource #1
$3/1 BIC disposable razor – Expires 8/23/14
$1/1 Birds Eye Voila variety (DND) – Expires 11/13/14
$0.50/1 Carefree product – Expires 9/7/14
$1.50/1 Clear Care or Opti-Free Clear care solution 12oz+ or opti-free formula 10oz+ – Expires 9/5/14
$0.50/1 Colgate adult or kids manual toothbrush excludes plus, extra clean and classic – Expires 8/16/14
$0.50/1 Colgate toothpaste 3.4oz+ – Expires 8/9/14
$2/1 Colgate 360 manual toothbrush twin pack or multi-pack excludes free product packs – Expires 8/9/14
$2/1 Colgate mouthwash or mouth rinse 32oz+ – Expires 8/23/14
$2/1 Colgate Total, Optic White, Max Fresh or Sensitive twin pack – Expires 8/9/14
$1/2 Farmer John Dinner sausage – Expires 9/28/14
$1/2 Farmer John Hot dogs – Expires 9/28/14
$0.50/1 Frigo Cheese heads 8ct+ – Expires 9/6/14
$0.75/2 Honey Maid Teddy Grahams or Grahamfuls filled crackers 7.04oz+ – Expires 9/5/14
$5/1 Icaps Eye vitamin & mineral formula – Expires 9/5/14
$1/1 Irish Spring Gear bar soap 6 bar+ – Expires 8/16/14
$1/1 Irish Spring Gear body wash excludes 2.5oz – Expires 8/16/14
$2/1 Nature Made fish oil product excludes 30ct or less – Expires 8/27/14
$2/2 Nature Made Products excludes 30ct or less – Expires 8/27/14
$3/1 Nature Made Adult gummies product excludes 30ct or less – Expires 8/27/14
$1/1 OXY Daily defense – Expires 9/21/14
$1/1 OXY Maximum action – Expires 9/21/14
$0.25/1 Palmolive Ultra liquid dish soap 12.6oz+ – Expires 8/16/14
$0.50/1 Palmolive Ultra liquid dish soap 25oz+ – Expires 8/16/14
$3/2 PediaSure Products – Expires 10/26/14
$4/1 PediaSure Powder – Expires 10/26/14
$0.75/1 People/InStyle/People StyleWatch issue – Expires 10/17/14
$10/1 Philips Norelco shaver series 6000 – Expires 9/20/14
$30/1 Philips Norelco Shaver series 8000 – Expires 9/20/14
$5/1 Philips Norelco Shaves series 2000, 3000, 4000, 5000, click & style or beard trimmers, body groomers, replacement heads, hairclippers and axe philips norelco products $29.99+ – Expires 9/20/14
$1.50/1 Pledge Floorcare product – Expires 8/6/14
$1/2 Pledge furniture care products – Expires 8/6/14
$1/2 Post Kids' cereals & treats – Expires 9/7/14
$1/2 Post products – Expires 9/7/14
$1/1 Revlon Luxurious Colorsilk Buttercream – Expires 8/31/14
$1/2 Revlon Colorsilk, Luminista or Frost & Glow – Expires 8/31/14
$0.50/2 Scotch-Brite Scrub Sponges, Scour pads, Dishwands and Dishwand refills – Expires 8/31/14
$0.75/1 Scrubbing Bubbles All purpose cleaner with Fantastik – Expires 8/6/14
$1/2 Scrubbing Bubbles Bathroom cleaning products – Expires 8/6/14
$1/2 Scrubbing Bubbles Toilet cleaning products – Expires 8/6/14
$1/2 Shout products – Expires 8/6/14
$0.35/1 Softsoap Liquid hand soap pump 7.5oz+ – Expires 8/16/14
$0.50/1 Softsoap Liquid hand soap pump 8oz+ or refill 28oz+ – Expires 8/16/14
$0.75/1 Softsoap Body wash 12oz+ – Expires 8/16/14
BOGO Speed Stick Gear antiperspirant/deodorant or body spray up to $4.29 excludes 1.8 and .5oz – Expires 8/16/14
$1/1 Stayfree product – Expires 9/7/14
$3/1 Systane Lubricant eye drop formula 10ml+ – Expires 9/5/14
$1/1 Terminix Ultimate protection insecticide – Expires 12/31/14
$0.50/1 Welch's PB&J snacks 8ct – Expires 9/6/14
$0.50/1 Windex Touch-up cleaner – Expires 8/6/14
$1/2 Windex products – Expires 8/6/14
$4/1 Zadiator 10ml+ – Expires 9/5/14
$4/1 Zantac 24ct+ product – Expires 9/20/14
Smartsource #2
$1.50/2 Air Wick Freshmatic ultra refills – Expires 8/24/14
$1/1 Air Wick Scented oil twin refill or 2 single refills – Expires 8/24/14
$1/2 Air Wick Candles or wax melts – Expires 8/24/14
$0.75/4 Arm & Hammer Toothpaste or whitening booster 2.5oz+ – Expires 9/30/14
$1/1 Arm & Hammer Spinbrush adult battery-powered toothbrush or refill heads – Expires 9/30/14
$1/1 Benadryl Adult's or Children's product (Excludes trial/travel) – Expires 9/30/14
$1/1 Clean & Clear product – Expires 9/30/14
$0.75/2 Dole Mandarin oranges or tropical fruit cans – Expires 9/30/14
$0.50/1 Eveready Gold batteries AA or AAA 8ct+ or Flashlight – Expires 9/27/14
$1/1 Flintstones product – Expires 9/28/14
$1/1 Hershey's Spreads jar 13oz – Expires 9/21/14
$2/3 Johnson & Johnson Neosporin, Band-aid adhesive bandages, Benadryl topical, Bengay or Red cross products excludes trial, first aid kits, band-aid 10ct and on-the-go first aid kits MUST BUY 2 BRANDS – Expires 9/30/14
$1.50/2 Kotex U liners excludes 14-22ct and trial – Expires 9/6/14
$1.50/2 Kotex U pads – Expires 9/6/14
$1.50/2 Kotex U tampons – Expires 9/6/14
$1/2 Kotex Natural Balance products excludes liners 14-22ct – Expires 9/6/14
$1/1 Listerine Mouthwash 500ml – Expires 9/30/14
$1.50/1 Lubriderm product 6oz+ – Expires 9/30/14
$2/2 Neutrogena Skincare or cosmetics products excludes trial, clearance and bar soap – Expires 9/30/14
$3/1 One A Day product – Expires 9/20/14
$1.50/1 OxiClean Extreme power crystals dishwasher detergent – Expires 8/9/14
$1/1 Purell 8oz+ advanced hand sanitizer bottle – Expires 9/21/14
$1/2 Purell products – Expires 9/21/14
$1/2 Rachael Ray Nutrish Wet dog food – Expires 10/27/14
$2/1 Rachael Ray Nutrish 3lb+ dry cat food bag – Expires 10/27/14
$2/1 Rachael Ray Nutrish 6lb+ dry dog food bag – Expires 10/27/14
$4/1 Rachael Ray Nutrish 4lb+ zero grain or just 6 dry dog food – Expires 9/27/14
BOGO Rachael Ray Nutrish free dog treats up to $4.99 – Expires 10/27/14
B2G1 Rachael Ray Nutrish Wet cat food up to $1.29 – Expires 10/27/14
$3/2 Refresh products – Expires 9/30/14
$4/1 Refresh Optive advanced product – Expires 8/31/14
$1.50/1 Rubbermaid Lunchblox sandwich, salad, entree or kids lunch kit – Expires 9/20/14
$2/1 Schick Xtreme3, ST2 or ST3, Slim Twin or Quattro disposable excludes 2ct, 10+2ct, hydro 5 disposable, women's disposables – Expires 8/24/14
$2/1 Schick Xtreme3, ST2 or ST3, Slim Twin or Quattro for women disposable excludes 2ct, 10+2ct, silk hydro disposable, men's disposables – Expires 8/24/14
$1/1 Tropicana Farmstand 46oz bottle excludes pure premium and trop50 – Expires 9/21/14
$2.50/2 Tylenol regular or extra strength products 24ct+ – Expires 9/30/14
$1/1 Tylenol or Motrin children's or infants' product (Excludes trial/travel) – Expires 9/30/14
$4/1 Zyrtec adult or children's dissolve tabs 12ct or 24ct – Expires 8/15/14
Red Plum #1
$1/1 Hefty large black trash bags – Expires 9/30/14
$1/1 Hefty tall kitchen trash bags – Expires 9/30/14
$0.55/1 Hillshire Farm Smoked Sausage links or American Craft handcrafted sausage links – Expires 9/7/14
$1/1 L'Oreal Skin care product (Excludes trial/travel) – Expires 8/23/14
$2/1 L'Oreal Advanced Haircare treatment excludes 1.7oz trial size – Expires 8/23/14
$2/1 L'Oreal Excellence Haircolor excludes to-go – Expires 8/23/14
$3/1 L'Oreal Age Perfect cell renewal – Expires 8/23/14
$3/2 L'Oreal Advanced Haircare shampoo, conditioner or hairstyle products excludes 1.7oz – Expires 8/23/14
$0.50/1 Nestle Nesquik powder 10.9oz+ or any syrup – Expires 9/28/14
$1/1 Nivea Men Body Wash 16.9oz – Expires 8/10/14
$1/1 Nivea Men Shave Gel or Foam 7.8.7oz – Expires 8/10/14
$2/1 Nivea Men Face care product .33-5oz excludes shave gels or foams – Expires 8/24/14
$0.50/2 Purina Friskies cat treats or whisker lickin's cat treats – Expires 10/12/14
$1/1 Purina 4lb+ dog chow or puppy chow – Expires 10/27/14
$1/2 Purina 5.5oz+ dog snacks – Expires 10/12/14
$3/2 Purina 18oz+ dog snacks – Expires 10/12/14
$1 off (8) Purina ALPO cans or 1 8ct+ pack – Expires 10/27/14
$1.50/2 Purina Friskies Dry cat food – Expires 9/30/14
$1 off (24) Purina Friskies cans, 2 12pks or 1 24pk wet cat food – Expires 9/30/14
$1/1 Purina Tidy Cats cat litter – Expires 10/27/14
$1.50/1 Visine product 1/2floz+ – Expires 9/30/14
$1/2 Always or Tampax Feminine care items (Target Store Coupon) – Expires 8/31/14
$0.50/1 Bounty 6pk+ towels (Target Store Coupon) – Expires 8/31/14
$0.50/1 Charmin 8ct+ bath tissue (Target Store Coupon) – Expires 8/31/14
$1/2 Covergirl Cosmetic items (Target Store Coupon) – Expires 8/31/14
$5/1 Crest 4ct 1hr Express, 14ct Luxe Supreme Flexfit, 20ct Luxe Professional Effects or 28ct gentle routine (Target Store Coupon) – Expires 8/31/14
$1/1 Crest or Oral-B 2pk crest toothpaste or 4pk oral-b manual toothbrush (Target Store Coupon) – Expires 8/31/14
$1/1 Duracell 8pk+ batteries (Target Store Coupon) – Expires 8/31/14
$0.50/2 Febreze Fabric Refresher or Air care items (Excludes trial/travel) (Target Store Coupon) – Expires 8/31/14
$1/2 Gain Detergent, Fabric Softener, Fireworks Scent booster or dryer sheets (Excludes trial/travel) (Target Store Coupon) – Expires 8/31/14
$2/1 Gillette Fusion Proglide or Mach3 razor or cartridge refill (Excludes trial/travel) (Target Store Coupon) – Expires 8/31/14
$10/1 Oral-B Precision 1000/3000, precision black 1000/7000 or triaction 1000/5000 (Target Store Coupon) – Expires 8/31/14
$0.50/1 Puffs 3pk+ facial tissue (Target Store Coupon) – Expires 8/31/14
$1.50/2 Swiffer Starter kits or refills of sweeper, sweepervac, wetjet, sweep & trap, dusters, dusters 360, dusters extender, bissell steamboost (Target Store Coupon) – Expires 8/31/14
$1/2 Tide/Downy/Bounce laundry care items (Excludes trial/travel) (Target Store Coupon) – Expires 8/31/14
$1 off (1) Venus/Satin Care 1 razor and 1 gel excludes disposables and trial (Target Store Coupon) – Expires 8/31/14
$1/1 ZzzQuil Sleep aid item excludes 6oz (Target Store Coupon) – Expires 8/31/14
Red Plum #2
BUY (1) AXE 16oz shower gel, GET (1) 12oz shampoo free (Excludes trial/travel) up to $5.99 – Expires 8/10/14
BUY (1) AXE Bodyspray, GET (1) Anti-perspirant deodorant stick free (Excludes trial/travel) up to $5.99 – Expires 8/10/14
$1/1 Caress 6-bar+ pack or body wash 12oz+ (Excludes trial/travel) – Expires 8/24/14
$0.35/1 Country Crock spread excludes honey and cinnamon – Expires 8/24/14
$0.50/1 Degree men motionsense (Excludes trial/travel) – Expires 8/24/14
$2/1 Degree Women clinical or 2 motionsense or ultraclear products (Excludes trial/travel) – Expires 8/24/14
$1.50/1 Dove Advanced care with nutriummoisture deodorant (Excludes trial/travel) – Expires 8/24/14
$1.50/1 Dove hair product (Excludes trial/travel) – Expires 8/24/14
$1/1 Dove beauty bar 6pk+ (Excludes trial/travel) – Expires 8/24/14
$1/1 Dove body wash 12oz+ (Excludes trial/travel) – Expires 8/24/14
$1/1 Dove Men+Care $1/1 antiperspirant 2.7oz, deodorant 3oz or clinical protection antiperspirant 1.7oz (Excludes trial/travel) – Expires 8/24/14
$1/1 Dove Men+Care body and face bar 6pk+ – Expires 8/24/14
$1/1 Dove Men+Care body and face wash 13.5oz+ or active clean shower tool (Excludes trial/travel) – Expires 8/24/14
$0.50/1 I Can't Believe It's Not Butter spread – Expires 8/24/14
$1/1 Kibbles 'n Bits Dry dog food – Expires 9/21/14
$0.75/1 Land O'Frost Premium, Bistro favorites or Canadian Bacon – Expires 8/27/14
$1/1 Land O'Frost Sub sandwich kit – Expires 8/27/14
$1.25/1 Noxzema Skin care product (Excludes trial/travel) – Expires 8/24/14
$2/2 Noxzema 5 or 3 blade 3ct+ or twin blade 12ct (Excludes trial/travel) – Expires 8/26/14
$0.60/2 Ragu products – Expires 8/24/14
$1/1 Real Simple issue – Expires 9/19/14
$0.50/1 Safeway Home Giant roll bath tissue – Expires 8/31/14
$0.50/1 Safeway Home Mega roll bath tissue – Expires 8/31/14
$2/1 Sally Hansen Miracle gel color, top coat or value pack $7.97+ – Expires 8/27/14
BUY (1) Simple Cleanser or Moisturizer, GET 1 facial wipes free (Excludes trial/travel) up to $6.99 – Expires 8/10/14
BOGO St. Ives Fresh hydration lotion (Excludes trial/travel) up to $7.99 – Expires 8/10/14
$0.25/1 Suave Deodorant (Excludes trial/travel) – Expires 8/24/14
$0.50/1 Suave Professionals, naturals or men product (Excludes trial/travel) – Expires 8/24/14
$1/1 Suave Kids Hair or body wash (Excludes trial/travel) – Expires 8/24/14
$1.50/1 Suave Professionals Gold infusion shampoo, conditioner, styling or treatment item (Excludes trial/travel) – Expires 8/24/14
$1/1 Suave Professionals product (Excludes trial/travel) – Expires 8/24/14
P&G
$0.50/1 Always Pads or pantiliners 30ct+ or feminine wipes – Expires 8/31/14
$1.50/2 Always pads or pantiliners 30ct+ or feminine wipes – Expires 8/31/14
$3/3 Always Pads or pantiliners 30ct+ or feminine wipes – Expires 8/31/14
$1.50/2 Aussie shampoo, conditioner or styling products – Expires 8/31/14
$3/2 Aussie shampoo, conditioner or styling products – Expires 8/31/14
$0.50/1 Bounce product – Expires 8/31/14
$0.25/1 Bounty napkin – Expires 8/31/14
$0.25/1 Bounty towel or napkin – Expires 8/31/14
$0.25/1 Cascade product – Expires 8/31/14
$0.25/1 Charmin product – Expires 8/31/14
$1/1 Clairol Hair color excludes age defy – Expires 8/31/14
$3/2 Clairol Hair color excludes age defy – Expires 8/31/14
$5/3 Clairol Hair color boxes excludes balsam, textures & tones and age defy – Expires 8/10/14
$1/1 Covergirl products excludes accessories – Expires 8/31/14
$3/2 Covergirl products excludes accessories – Expires 8/31/14
$0.50/1 Crest rinse 327ml+ – Expires 8/31/14
$0.50/1 Crest Toothpaste 3oz+ or liquid gel excludes cavity, baking soda and tartar control – Expires 8/31/14
$0.25/1 Dawn product – Expires 8/31/14
$1/1 Downy or Bounce bursts excludes downy single rinse – Expires 8/31/14
$0.50/1 Duracell Coppertop, Quantum, Ultra photo lithium, specialty, rechargeable, charger or 6pk hearing aid batteries – Expires 8/31/14
$1.50 off Duracell AA or AAA coppertop 8pk+ or AA or AAA Quantum 6pk+ AND 1 C or D coppertop 4pk+, c/d Quantum 3pk+ or coppertop/quantum 9v 2pk+ – Expires 8/31/14
BOGO Febreze product – Expires 8/10/14
$0.75/1 Gillette Anti-perspirant or personal cleansing care – Expires 8/31/14
$1.50/1 Gillette Clinical deodorant – Expires 8/31/14
$1/1 Gillette shave gel – Expires 8/31/14
BUY Gillette Cartridge, GET $5 off razor – Expires 8/10/14
$0.50/1 Glad trash bags – Expires 8/31/14
$2/1 Head & Shoulders treatment product – Expires 8/31/14
$5/2 Head & Shoulders Full size products excludes 200ml, 6.8oz, 1.7oz and treatments – Expires 8/10/14
$1/1 Herbal Essences body wash – Expires 8/31/14
$3/2 Herbal Essences Shampoo, conditioner or styling products – Expires 8/31/14
$0.50/1 Mr. Clean Magic eraser – Expires 8/31/14
$0.75/1 Mr. Clean liquid muscle liquid or spray – Expires 8/31/14
$0.75/1 Mr. Clean Liquid muscle with febreze – Expires 8/31/14
$1.50/1 Olay Total Effects or Age Defying facial moisturizer – Expires 8/31/14
$1/1 Olay Facial moisturizer or facial cleaners excludes pro-x, regenerist, total effects and age defying – Expires 8/31/14
$2/1 Olay Pro-X or Regenerist facial moisturizer or facial hair removal – Expires 8/31/14
BUY Olay bodywash, GET $2 off bar 4ct+ – Expires 8/31/14
$3/2 Old Spice Shampoo, 2-in-1 or styling products – Expires 8/31/14
BUY (2) Old Spice Anti-perspirants or deodorants, GET 1 body spray free – Expires 8/10/14
$0.50/1 Oral-B Glide floss 35m+ or glide floss picks 30ct+ – Expires 8/31/14
$0.50 off (1) Oral-B Pulsar, 3D White, Pro-health, complete or sensi-soft or 2 indicator or cavity defense toothbrushes – Expires 8/31/14
$2/1 Oral-B adult battery toothbrush – Expires 8/31/14
$3/1 Oral-B replacement brush heads 2ct+ – Expires 8/31/14
$5/1 Oral-B Vitality electric toothbrush, professional series 1000, 2500, deep sweep 1000 or pulsonic rechargeable electric toothbrush – Expires 8/10/14
BUY Pampers Diapers or pants, GET wipes up to 72ct free up to $3.99 – Expires 8/10/14
$3/2 Pantene products – Expires 8/31/14
$5/1 Pantene Expert hair regrowth treatment for women $18.99+ – Expires 8/10/14
$6/2 Prilosec OTC 42ct products – Expires 8/10/14
$0.25 (3) Puffs singles or 1 3pk+ – Expires 8/31/14
$1/1 Scope mouthwash 250ml+ – Expires 8/31/14
$2 off (1) Secret Outlast, Scent Expressions or Destinations AND 1 body spray excludes .5oz – Expires 8/31/14
$2/1 Secret Clinical deodorant excludes .5oz – Expires 8/31/14
$0.40/1 Swiffer refill solution or dust & shine – Expires 8/31/14
$1/2 Swiffer refill solution or dust & shine – Expires 8/31/14
$2 off Swiffer starter kit with purchase of any refill – Expires 8/31/14
$2/3 Swiffer refill solution or dust & shine – Expires 8/31/14
$2/1 Tampax Pearl or Radiant tampon 16ct+ – Expires 8/31/14
$2/1 Tide Detergent excludes simply fresh & clean, pods and detergent 10oz – Expires 8/31/14
$5/3 Tide/Downy/Bounce Tide or Tide Boost, Downy, Downy Unstopables and Bounce bursts excludes downy single rinse, tide simply clean & fresh, tide detergent 10oz and tide pods (8/10)
$3/1 Vidal Sassoon hair color – Expires 8/31/14
$3/2 Vidal Sassoon shampoos or conditioners – Expires 8/31/14
$3/2 Vidal Sassoon styling products – Expires 8/31/14
$1/1 ZzzQuil product – Expires 8/31/14