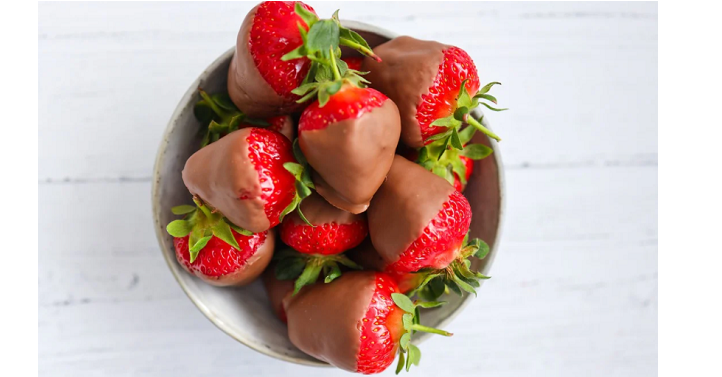 Yesterday I made chocolate covered strawberries for the first time EVER. I guess I was intimidated to make them. However, I found a way to make them and it was super easy and so good. We all loved them. This would be a great family activity on Valentine's Day.
Chocolate Covered Strawberries
Ingredients:
1 lb Strawberries
1 package Ghirardelli milk chocolate chips
1 package Ghirardelli white chocolate chips
2 Tablespoon vegetable oil (separated)
Wax paper sheets
Instructions: 
1. Wash strawberries and then dry them thoroughly.
2. In a microwave safe bowl, mix together chocolate chips and vegetable oil.
3. Microwave chips and oil for 1 minute. Sir. Then add 30 sec and stir until the chips are almost melted. Keep stirring until nice and smooth.
4. Dip strawberries in chocolate and place on wax paper. Tip: place the wax paper on a sheet pan.
5. Once the paper is full of strawberries transfer the pans to a freezer for about 10 minutes.
6. Melt package of white chocolate chips with 1 tablespoon  oil. Melt with instructions like #3.
7. Get a spoon full of the white chocolate and drizzle it over the chocolate strawberries. You can freeze them again for a few minutes to get the white chocolate hard or you can just eat them!
You could even dip some of the strawberries in the white chocolate and drizzle with the milk chocolate.