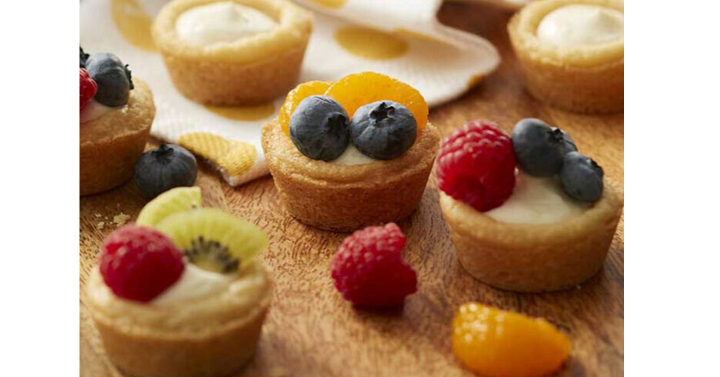 Easter is this Sunday which means a lot of families will be getting together to celebrate. When we celebrate holidays I know a lot of attention goes on the food. What will you eat? What will you serve? Since the kids will be getting a lot of candy dong Easter egg hunts, I thought having a small yet yummy dessert would be perfect. These mini fruit tarts are always a winner, plus you get some fruit in you too! Win-win!
Delicious Mini Fruit Tarts Recipe
Recipe and pictures by Wilton
Ingredients:
**Depending on your party size you could always cut this recipe in half and just do one package of cookies and half the recipe below.
2 16.5-ounce packages refrigerated sugar cookie dough
2 8-ounce packages cream cheese, softened
1 cup powdered sugar (confectioners' sugar)
1/2 cup heavy whipping cream
2 tablespoons lemon juice
2 tablespoons grated lemon zest
1 cup fresh strawberries, sliced
1 cup fresh blackberries
1 cup fresh blueberries
Directions:
1. Pre-heat oven to 350 degrees and grease well  a mini muffin pan.
2. Divide cookie dough into 48 equal slices and roll them into small balls, place 1 in each muffin space.
3. Bake for 12-14 minutes until they are golden brown. Rotating pan halfway between.
4. Remove from oven and immediately press centers of cookies with a 1/4 cup measuring cup or other small cup to form a cup. Be careful to not push all the way to the pan- you don't want holes.
5. Let cool for 5 minutes.
6. Remove from pan and let cool completely.
7. In a large mixing bowl add cream cheese, softened,  powdered sugar (confectioners' sugar), heavy whipping cream, lemon juice and grated lemon zest. Mix using an electric beater on medium until smooth.
8. Pipe or spoon in mixture to cooled cookie cups. Top with berries!
9. Serve immediately or chill.