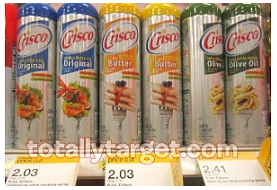 You can use this $0.75 off any Crisco Product coupon to get Crisco cooking spray for $1.28 at Target.  Check it out:
Crisco Non-Stick Spray – $2.03 – $2.41 (PC thru 5/18)
Use $0.75 off any Crisco Product
Pay as low as $1.28 each after coupon
Pricing and availability may vary by region.  Don't forget to check out other Target deals here.
Please note that many of you could not find this coupon in IE so try another browser like Chrome or Firefox. 
Thanks Totally Target