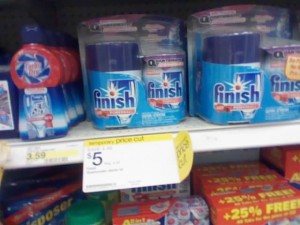 Target has Finish Quantumatic systems on price cut for $5 each through 7/24.  You can use the $3/1 coupon on your 7/18 SS insert or this $3/1 printableto pay only $2 each.
While you are at Target checking out this and the rest of the Target deals, you may want to check out the Summer clearance section. I got an email from Sierra sharing that a lot of the summer stuff is 75% off. At her store it was in two places, near the garden area and in the swimming accessory section of the sports area. She found Whamo boogie boards were only $2.74.
Thanks Pamela and Sierra for emailing me your deals for a chance to win!