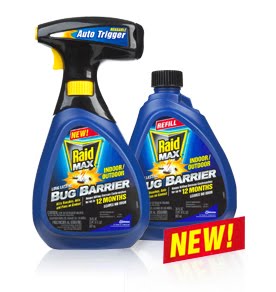 If you are in need of some bug control products, there is a good deal this week on Raid products at Target.  The Raid Max Long Lasting Bug Barrier products are on sale for $7.69 each and last Sunday (5/9) there was a Target coupon that helps make for a good deal:
Buy two Raid Max Long Lasting Bug Barrier $7.69 each
Use two $3/1 Raid Max Long Lasting Bug Barrier printable coupons
Use FREE $5 Gift Card wyb 2 Raid Max Bug Barrier products Target coupon from SS 5/9 insert
Pay $9.38 plus tax out of pocket and get back one $5 Target Gift card
That's like paying $2.19 each  (Thanks Krazy Coupon Lady!)
Also, I wanted to update you on the Target Ni Hao Kai Lan Target Coupon I shared with you yesterday. It seems the coupon is also good to use on little girl packs of undies. These sell for $3.79, so it's like getting two of them half off after coupon. Thanks Sarah!
See all Target Deals here.