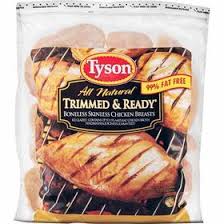 UPDATE: I originally had this deal stacked with the $1/1 Tyson® Skinless Boneless Chicken Breast listed on the Target printable coupon website, but I didn't notice that this actually printed as a manufacturer coupon. Thanks for pointing this out, Edgar!
Starting Sunday (6/22/14), 2.25 lb bags of Tyson Trimmed & Ready frozen chicken will be on sale 2/$12.
Buy (1) Tyson Trimmed & Ready frozen chicken, 2.25 lb @ $6 
– Use (1) $1/1 bag of Tyson® Trimmed & Ready® Frozen Boneless Skinless Chicken (IL zip code 16906)
Final Price: $5 wyb 1 ($2.22/lb)
Going shopping? Check out all of the recent coupon deals we've found!