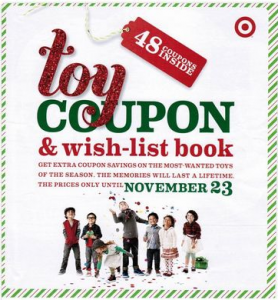 The Target Toy Book and Coupons for 2011 is hitting your mailboxes.  if you have a Target store near you, chances are very good you will get this catalog in the mail.  Although you will also find it in store by the toy area and at some point they should also be available online.
In the past the coupons included in this Target store catalog have made form some great deals, let's hope the same happens this year.  Here are the coupons you can expect to find inside:
$5/1 Barbie Select Dolls OR Toys (Includes: 2011 Holiday Doll, Designable Hair Extensions & Doll, Princess Doll & Horse Set, I Can Be … Bride Set, Glam Bike Doll & Bicycle Set , Fashionistas Jet Set Doll, or Fashionistas Jet)
$20/1 Battery Powered Ride-On (Valued at $100+)
$5/1 CAT 3-in-1 Dump Truck Ride-On
$15/1 Circo Play Kitchen
$5/1 Crayola Select Products (Includes: Dry Erase Zany Play Activity Center, Glow Station Day and Night, Crayon Maker, Glow Dome or Book , Pop Art Pixies Fab Snaps Wristlet, or Model Magic Jewelry Studio)
$10/1 Disney Battery Powered Quad Ride-On
$3/1 Disney Books (Includes: Cars Storybook Collection or Princess Bedtime Stories)
$5/1 Disney Select Dolls or Toys (Includes: Princess Doll Collection (7 pk.), Pixie Hollow Games Doll Collection (6 pk.), Ultimate Fairy Tale Kitchen, My First Princess Doll, OR Toddler Dress Set or Ultimate Dream Castle)
$5/1 Dora the Explorer Product (Valued at $19.99+)
$5/1 Fijit Friends Interactive Toy
$20/1 First Act Discovery Drum Set
$10/1 Fisher-Price 3D Smart Cycle
$5/1 Fisher-Price Rock Star Mickey
$5/1 FurReal Friends Cookie My Playful Pup
$5/1 Hasbro Bop it! XT Game
$5/1 Hasbro Flash Game (Includes: Scrabble, Yahtzee, or Simon)
$5/1 Hasbro Select Games (Includes: Monopoly Electronic Banking, Scrabble Alphabet Scoop, Electronic Catch Phrase, Connect 4 Launchers, Monopoly Star Wars Edition, or Operation Star Wars R2 Tune Up)
$5/1 iPad Duo Accessory (Includes: Pop Game Buzzer, Atari Arcade Game, or Plink Game)
$10/1 Kids' Character Bike (Includes: Transformers, Disney Princess, Disney Cars, or Barbie)
$5/1 KRE-O Transformers Optimus Prime & Cycle
$5/1 Lalaloopsy (Valued at $19.99 +)
$10/1 Leapfrog Tag Reading System or Leapster Explorer (Includes: Green or Pink)
$5/1 Lego Select Building Set (Includes: City Police Bank & Money Transfer, Cars 2 Spy Jet Escape, Star Wars Naboo Fighter, Harry Potter: the Knight Bus, Ninjago Battle Arena, City Advent Calendar, or Alien Conquest Jet Copter Encounter)
$5/1 LEGO Select Heroica or Ninjago Game (Includes: Heroica Caverns of Nethuve, Heroica Waleruk Forest, or Heroica Castle Fortaan)
$5/1 Let's Rock Elmo
$10/1 Little Mommy My Very Real Baby Doll
$5/1 Mega Bloks Select Set (Includes: Halo Versus Covenant Locust Attack, Hello Kitty Dream House, Need for Speed Wheel Launcher, Play-n-go Table, or Halo UNSC Falcon)
FREE My Little Pony Canterlot DVD w/ Any My Little Pony Canterlot Purchase (Valued at $19.99+)
$5/1 NERF Vortex Nitron Blaster
$5/1 Nintendo Wii NunChuk or Controller
FREE Our Generation Outfit wyb Our Generation Deluxe Doll Set
$5/1 Paper Jamz Pro Series Includes: Mic, Guitar, or Drums)
$5/1 Play Wonder Fashion Doll (Valued at $29.99 +)
$5/1 Playskool Poppin' Park Select Toy (Includes: Bounce & Ride or Elefun Busy Ball Popper)
$10/1 Playstation 3 Dual Shock Controller
20% off Razor Select Products (Includes: Ultra Pro Low Kick Scooter E Spark Electric Scooter, E 175 Electric Scooter, Graffiti Chalk Scooter, RipStik Casterboard, or BOGO Pogo Stick)
$10/1 Schwinn Bike
$5/1 Scooter (Includes: Folding or 3-Wheel)
$5/1 Star Wars Ultimate FX Lightsaber
$10/1 Step 2 New Traditions Kitchen
$10/1 Step2 or Radio Flyer Wagon
$5/1 Thomas & Friends Select Playset or Toy (Includes: Track Master: Cranky & Flynn Save The Day, Take-n-Play: Treasure At Pirate's Cove, Wooden Railway: Flynn & Water Tower or Percy's Fuel Delivery or Steamies vs. Diesels Engines 4 pk, Day of the Deisels DVD, Tidmouth Shed's Toy, or Mega Bloks Sodor Search & Rescue Bucket)
$5/1 Tonka Chuck & Friends Race Along Chuck
$5/1 Toy Story Purchase (Valued at $25+)
$5/1 Transformers Playskool Heroes Fire Station Prime Set
$5/1 Transformers Ultimate Optimus Prime
$5 off UNO Roboto or Loopz Game AND Duracell AA Batteries (24 pk.)
$10/1 X-Box 360 Wireless Controller
All of these Target Toy printable coupons expire on 11/23/11.
Thanks, In Good Cents!