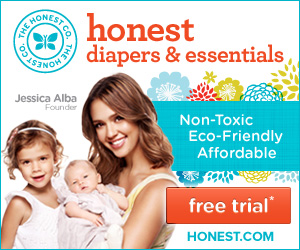 Founded by Jessica Alba and Christopher Gavigan, the Honest Company was created to help moms and to give all children a better, safer start. Within the Honest Company, you will find Products that take care. Products that exceed expectations. Products guaranteed to not only satisfy, but also delight.
You can get a free trial of The Honest Co. products. Get Started and fill out 3 pages of info on you and your child then Choose a free discovery kit of Diapers and Wipes and/or our Essentials. Pay only $4.95 for shipping and handling. Great Way to check out the products to see if you like them.
You'll be automatically enrolled in our monthly service – You have 7 days following receipt of your Discovery Kit to cancel your membership at any time, for any reason.