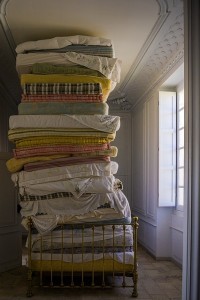 The weather is getting warmer and people are starting to get their Spring cleaning done and you know what that means?  Yard sale season!
That's right, those yard signs have started popping up!  If you are planning to head on out and go deal shopping, make sure you know what to stay away from.  Here are some things that you need to avoid buying at yard sales.
Car Seats / Cribs
Never ever buy used car seats or cribs from a yard sale.  The fact is that these often have recalls on them and you wouldn't be aware of those.  In addition, car seats are never supposed to be used if they have been in an accident even if they look perfectly fine.
Baby Bottles
You really should just spring for new bottles.  There could be small cracks in the bottle that you can't see.  Plus, with new bottles you are able to determine whether they are BPA free, etc.
Mattresses
Bed bugs.  Need I say more?  Seriously though, you are far better off saving up to buy a mattress new.
Shoes
Too many foot fungus stories out there for me to recommend buying used shoes.  Many people get away with it just fine and more power to ya, but be careful!
Swimsuits / Underwear, etc
I feel like this shouldn't even need an explanation.  I will give you a little heads up though.  Many Goodwill stores sell brand new overstock from Target and you can find a brand new swimsuit for like $5.  
Damaged cookware
Cookware is not that expensive, but when you buy used nonstick cookware, chances are that the non-stick is peeling off and that is very dangerous when consumed.
What are some items that you avoid when shopping at yard sales.