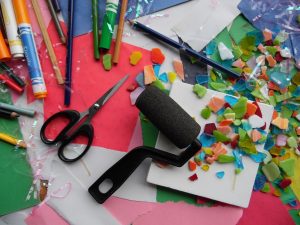 Image by Elissa Capelle Vaughn from Pixabay
I can say without a doubt that I have spent more money on craft supplies this year than I ever have before. I would be willing to bet that I'm not the only one. This lockdown and world situation has us all being creative! That being said, this situation has also changed the income situation for many of us so we need to buckle down and make sure that we are doing what we can to save. 
If you are wanting to get more craft supplies for all of your projects, but needing to save money, check out these tips for saving money on craft supplies. 
Tips for Saving Money on Craft Supplies
Coupons
Coupons aren't just for groceries, my friends! You can find some really great coupons for your craft supplies!
Here are my favorite ways to score coupons for craft supplies:
Newspaper – yes, believe it or not, these do still exist and many of them still have coupons in them! You'd be surprised at all of the coupons that you can find. 

Store Websites – Check out the websites for stores like Joanns, and Michaels. They both offer wonderful coupons that you can either print out or show on your phone. 

Email newsletters – While on the websites looking for coupons, be sure to sign up for newsletters because you will often get coupons just for signing up. 
Check out Facebook, Twitter, Pinterest, etc.
Since I know you are on social media already, be sure and check out your favorite store's social.
Head to The Thrift Shop
Oh my gosh, I have found so many awesome craft deals at the thrift shop! Next time you happened to be in a thrift shop, be sure to look around and see what crafty deals you can find. 
Dollar Tree Deals
If you have never shopped Dollar Tree for craft supplies before, you are in for a pleasant surprise! Dollar Tree is home to some really great (and surprisingly good quality) craft goodies. 
What is your favorite way to save money on craft supplies?