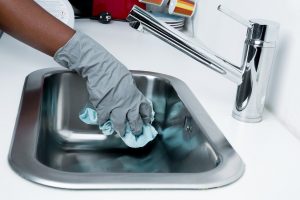 Have you been down the household cleaning aisle in the store recently? I cannot help but notice how expensive all of the supplies are! If you are like me, you are probably wondering how you can save money on these supplies. It is possible! 
I follow a couple of tried and true rules in order to save money on the house cleaning products that I like to use in my home.
Tips for Saving Money on Household Cleaning Products
Use Coupons
My coupon game has always been strong and while coupons aren't as popular or common as they used to be, they are still a great way to save money! Check your Sunday paper for coupons, check our website for new online coupons, and don't forget to check your store club coupons for additional savings. 
Shop Amazon
Amazon is a tried and true place to shop for savings. We all know that! Just be sure to avoid shipping with a prime membership, and watch out for any coupons. Subscribe and Save is a great way to save money on this type of product as well.
If you do sign up for Subscribe and Save, be sure to cancel your subscription after you receive it. The prices aren't always the same on the next shipping date, so it's good to set a reminder for yourself.
Go to the Dollar Store
The dollar store is a great place to find GREAT deals on household cleaning products. You can't discount it just because it's the dollar store. You may be surprised to find stock up prices on top name items sometimes too! I have found top name brand dish soap for $0.20 per tab, and I just love the orange cleaner too. Also, if you like microfiber cloths for cleaning, the dollar store is a really great place to find them.