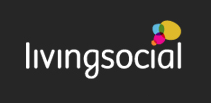 Here are the Top Daily Living Social Deals for 04/13/12. Many of these deals are national. It also does not matter what city you live in to get local deals. Please don't forget to read the fine print.
Online Deals
Coral Gables: $19 for an 8×10 gallery stretched canvas from CanvasPop. Can also get a 16×20 canvas for $39. Both options come with a $30 voucher for a future purchase.
Seattle: $15 for $40 worth of custom announcements, party invitations and more from SimplyToImpress.com. Shipping not included.
Raleigh: $15 for a subscription to a Zoobooks magazine. Choose from Zoobies, Zootles or Zoobooks. Includes a poster and stickers.
New York City: $10 for $50 worth of business cards, invitations, photo books and more from Vistaprint. Shipping not included.
Some Local and Travel Deals
Fort Worth: Drop $15 and score a five-bounce pass (a $35 value), or pay $25 for a ten-bounce pass (a $70 value) to Pump It Up.
San Diego: For $20, get $40 to spend on cookies and bars, cakes, and cupcakes at Sprinkle Me! Desserts.
South Orlando: Get the ball rolling on a better day with today's deal from Orange Bowl Lanes in Kissimmee: Pay $29 for two hours of bowling for six people at (a $75 value), including shoe rentals, popcorn, and soda.
NYC Upper West Side: Here is your chance to get a bike rental sightseeing tour. Pay $7 (regularly $15) for a one-hour rental, $10 (regularly $20) for a two-hour rental, $12 (regularly $25) for a three-hour rental, or $15 (regularly $30) for a four-hour rental.
Living Social Escapes: Here's a deal from Fairmont Newport Beach Film Festival. Get a one-night stay for two, Friday or Saturday ($150) or Sunday through Thursday ($190) between April 26 and May 3, and get two general admission tickets to the festival. Even if your autograph garners nothing but a smile—and not the legions of crowds of your dreams—you'll still be treated to A-list amenities.
Living Social Escapes: Enjoy a stay at Deer Harbor Cottages in Deer Harbor, WA. Deer Harbor Cottages are offering a two-night stay for up to two adults and two children, Sundays through Thursdays, in The Cottage on the Bluff ($284) or for up to eight guests in the Norton's Harbor View Cottage ($410). Or, opt for a two-night stay, Fridays and Saturdays, in The Cottage on the Bluff ($340) or Norton's Harbor View Cottage ($492).
Thanks, Stretching a Buck!