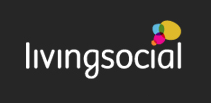 Here are the Top Daily Living Social Deals for 08/01/12. Many of these deals are national. It also does not matter what city you live in to get local deals. Please don't forget to read the fine print.
Online Deals
Huntsville: Pay $20 for $40 to spend on merchandise and shipping at Baby Banz. This online retailer makes it easy to protect children's eyes with style.
Nationwide Deals: Today's deal is from Frecklebox, an online emporium that sells customized back-to-school goodies, personalized books, and more. For $20, get $40 to spend online on personalized items, such as metal lunch boxes, complete with an interior chalkboard for leaving your kiddies encouraging notes.
Nationwide Deals: Pay $10 for $20 to spend on sports merchandise online. Offering gear from collegiate teams, NFL, NBA, MLB, NHL, NASCAR, MLS, MMA, and more.
Nationwide Deals: Make learning as interactive as a playground with this deal from Kaplan Early Learning Company: $10 for $20 to spend online on educational toys, books, and supplies.
Some Local and Travel Deals
San Francisco: Pay $66 (regularly $200) for a one-hour couples' massage or two one-hour Swedish massages from Voilà La Familia.
Jacksonville: With today's deal from Toscana Little Italy, pay $10 for $20 to spend on food or drink at this family-owned-and-operated restaurant.
Chicago: Tap into the local markets with today's deal from Crain's Chicago Business. Put in a $35 buy order for a one-year print and online subscription (a $99 value).
Dallas: Pay $5 today and you'll get $10 to spend on food and drink from Quiznos, powered by Takeout & Delivery from LivingSocial.
Living Social Escapes: Escape to the Royal Sonesta Hotel Houston and spend a night orbiting the district's nearly five-million square feet of retail space with a one-night stay for two, Fridays through Sundays ($109) or Mondays through Thursdays ($179), in deluxe accommodations with an included late check-out.
Living Social Escapes: Escape to the Seaside Hotel Waikiki in Hawaii. Crown your tropical getaway with cozy accommodations when you enjoy a three-night stay for two in a Partial Ocean-View Room ($394). Providing views of the Pacific and a private balcony, your room offers ample space for you to unwind before exploring Waikiki.