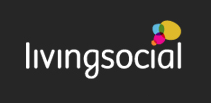 Here are the Top Daily Living Social Deals for 10/31/11. Many of these deals are national. It also does not matter what city you live in to get local deals. Please don't forget to read the fine print.
Online Deals
Phoenix: $15 for $40 worth of custom cards, invitations and more from SimplyToImpress.com.  Shipping not included.
San Diego: $20 for $50 worth or $35 for $75 worth of custom photo calendars from Picaboo.  Voucher may be used towards shipping.
Raleigh: $30 for $65 worth of organic baby clothes from Fierce Hugs.  Shipping not included.
San Francisco: Put down your knife and fork, and pick up a Knork. With today's deal, we're giving you $60 to spend on revolutionary flatware, plasticware, or other kitchen accessories at Knork.net for just $25
Local
Chicago/Northwest Suburbs: Get hardware at True Value. Pay $10 for $20 to spend on hardware and home repair items at either the Palatine or Arlington Heights location.
Fort Worth, Texas:  Shop at the The Import Store. Trot over to this 10,000-square-foot facility and gather $20 worth of items like stylish garden and outdoor décor, picture frames, fall and holiday decorations, boots and umbrellas, and other gifts from all corners of the world for $10; or, get $40 worth for $20.
Coral Gables/South Miami: Spend $15 and get $30 of toys from Toy Town. The shelves at this kid-haven are fully stocked with the latest in toy technology, as well as old favorites like Legos, doll houses, and board games.
Fresno, CA: Today's deal from RaceRoom gets you two single-screen or two triple-screen race sessions for $5 (regularly $15). Located in River Park shopping and entertainment complex, this is one of the first virtual racing experiences in North America.
Chicago/Southwest Suburbs: We hypothesize you'll be tickled pink with today's deal from A Joyous Look: Pay $19 (regularly $40) for a manicure and pedicure at this Merrillville, Indiana, salon.
Travel
Yosemite: Head just two hours north of Fresno, CA for this week's Escape to the 336-room Yosemite View Lodge, which overlooks the Merced River on the border of the park. You'll get a two-night stay for two at this El Portal resort, plus a host of other perks ($225).
Chicago:  You are headed to the Hard Rock Hotel with this deal for a one-night stay for two in a Deluxe King Room ($169) at this Michigan Avenue marvel in the heart of vibrant downtown Chicago.
Thanks, Stretching a Buck!