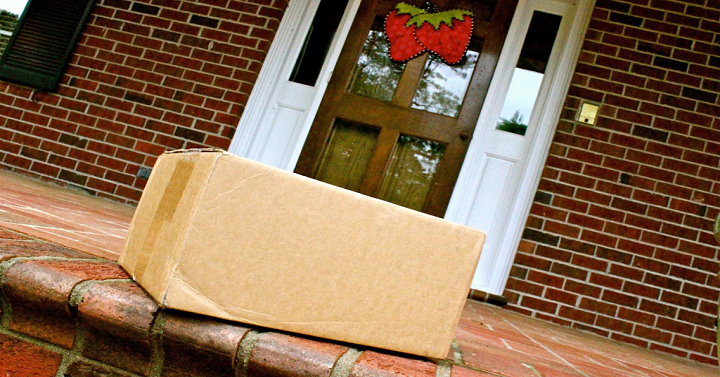 A lot of online shopping has happened this last week and everyone knows it, even the people we don't want to. That means packages are being delivered all over the world with awesome and cool Christmas presents inside and the possibility of them being stolen off your porch has increased. But don't let that stop you from shopping online, there are ways you can safeguard your items!
If you spend most your days at work, see if you can have your packages delivered to your workplace. Or maybe have a trusted neighbor who's home more often, available to accept your packages. This is a great option as well if you're trying to hide packages for Christmas.
One way to protect your packages I believe everyone should know about is the use of Amazon Lockers or Convenience Store. Amazon now has the option for you to pick up your delivery at a Amazon Locker with a unique code. (When selecting shipping address at checkout, you can find out whether the Amazon Locker is available in your area.) You'll arrive at the locker and enter your code in which you'll then be able to open it and pull your package out. These are offered at select locations across the country. If that's not an option in your area use the UPS store.
This next one was our big purchase this year. I do a lot of online shopping (obviously ;)) so I want to know when I have packages on my porch as well as people. Installing a security camera at your front door is a good way to warn off potential thieves from taking your packages. Reality is a thieve could still take your packages even if you install cameras but you'll then have the evidence you need to convict them.
If you don't already know you can put your mail and packages on a vacation package hold while you're gone. This way you don't have mail and packages sitting out for anyone. Just fill out their simple form and request to have your items held anywhere between 3 days to 30 days.
Now this is cool! It was invented right here in the USA and is a great solution for all your Christmas packages. It's the Package Guard and you place it on your front porch. It's a Wi-Fi device that once a package is placed on top of it you'll be alerted that your item has been delivered to your home. I think this is pretty neat especially since I'm always home but yet never seem to hear them knock or ring the door bell.
This last option may cost you a little charge but could save you in the long run. You can direct your delivery where to go with a couple different convenient apps. The FedEx's Delivery Manger and UPS My Choice both have fees to use but allow you to reroute parcel to another address and reschedule your package delivery. Don't forget though many companies will allow you to track your package which is a great alternative if you don't want to pay the fees.
Shopping online has taken a lot of stress out of the holidays and saved me money as it hope it has for you too. So protect your deliveries as they arrive at your home with these tricks and be sure to share them with your family and friends as well.