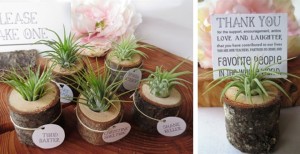 Looking for a hardy plant that's easy to take care of? Head over to Jane Daily Boutique Deals today!
Right now you can get a set of two air plants in tree stump planters for just $7.99! Shipping for the first set is $2.75 and shipping for each additional set is only $.75.  The stump measures 1.5-2″ in diameter and 2″ tall, and the total height with the plant is approx 3″.
These plants are super easy to take care of,since they don't require soil and need just a good soaking every now and again. These would make great Mother's Day or Easter gifts for the Black Thumbed person in your life!