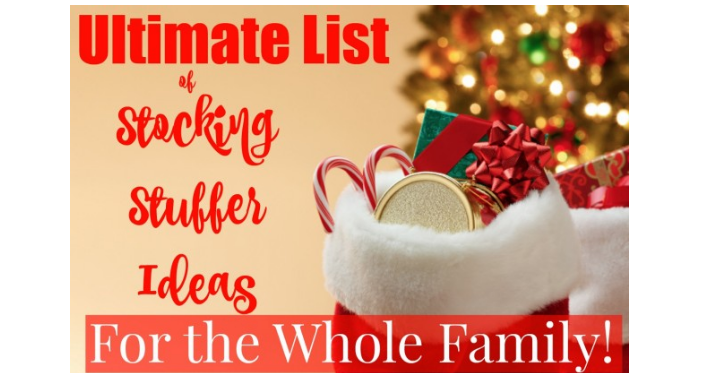 We are less than 2 weeks away from Christmas, can you believe it? You may have a good headway on your present list and possibly already done, but what about your stocking stuffers? You may not have a lot of extra money to throw around when you get to stockings. Stockings can get a little tricky, but never fear… here is a nice list of ideas that you can grab for each person in your family. Most are super cheap as well.
A good place to find most of these items is your local dollar store. If you want to shop from home for these items you can always use Amazon, Target and Walmart. These stores have competitive prices and you can get them shipped right to your home!
Stocking Stuffers for Dad
Deck of Cards
Canned Nuts
Golf Balls
DVD's
Hand Warmers/Feet Warmers
Gum/Tic Tacs
Deodorant/Body Spray
Cologne
Magazines
Sunglasses
Drill Bits
Mini Flash Lights
Gift Cards- Home Depot, Movie Theaters
Socks
Tie/Bow Tie
Tie Clip
Texting gloves
Hair Gel
Razor & Shaving Cream
Pocket Knife
Stocking Stuffers for Mom
Hand Lotion
Lip Balm/Lipstick
Face Mask
Hair Elastics
Note Book
Gift Cards- Spa, Restaurants
Nail Polish
Favorite Candy/Chocolate
Nylons/Tights
Jewelry- Earrings, Necklace, Bracelet or Rings
Tide Stain Sticks
Makeup
Texting Gloves
Flower Seeds
Beanie
Perfume
Dry Shampoo or Hair spray (Trial Size to fit)
Scarf
Makeup Remover Wipes
Candles
Stocking Stuffers for Teen Boys
Mini Cereal Box
iTunes Gift Card
Body Spray/Deodorant
Hair Gel
Key Chain
$1.00 bills
Tie/Bow Tie
Pencils/Pens
Texting Gloves
Beanie/Hat
Favorite Soda
Card Games
Favorite Candy
Gum
Flash Drive
Comic Book
Ear Buds
Hacky Sack
Car Air Freshener
Phone Case
Stocking Stuffers for Teen Girls
Chapstick
Nail Polish
Gum
Journal
Ear Buds
Magazines
Texting Gloves
Hair Spray/ Hair Gel
Jewelry- Necklaces, Earrings, Bracelets or Rings
Cute Socks
iTunes Gift Card
Mini Cereal Box
Perfume
Magnets for lockers
Glitter Pens
Beanies/Hats
$1.00 Bills
Key Chains
Favorite Candy
Favorite Soda
Stocking Stuffers for Boys
LED Glow Sticks
Books
Book Light
Favorite Candy
Hot wheels Cars
Slinky
Life Saver Story Books
Tie/Bow Tie
Watch
Piggy Bank
Slime
Electric Toothbrush
Tsum Tsum
Homemade Gift Cards- ("Stay up Late", "No Chore Day", "Out to Lunch")
Bath Color drops
Bubbles
Crayons
Favorite Soda
Character Gloves
Mini Cereal Box
Stocking Stuffers for Girls
Life Saver Story Books
Electric Toothbrush
Jump Rope
Watch
Silly Puddy
Backpack Keychain
Glow Sticks
Tsum Tsum
Homemade Gift Cards- ("Stay up Late", "No Chore Day", "Out to Lunch")
Character Gloves
Favorite Soda
Glitter Pens
Chapstick
Stickers
Small purse
Favorite Candy
Hair Bows/Headbands
Tights/Leggings
Crayons
Bubbles
Stocking Stuffers for Babies/Toddlers
Tsum Tsum
Bubbles
Teething Toys
Gerber Puffs
Baby Food
Mini Books
Hair bows
Soft mini blanket
Bibs or Burp clothes
Rattles/Small toys
Hats & Gloves
Shoes
Fun Socks
Plush Toys
Finger Puppets
Board Books
Fruit Snacks
Finger Paint
Sunglasses
Play-Doh
Stocking Stuffers for Dogs or Cats
Chew Toys
Leash
Collar
Teasers for cats
Treats
Holiday bows
Tennis Balls
Sweaters
Stuffed Animals
Dog shoes
Grooming Supplies
Clothing/Outfits
I hope this list will help you out and give you a few ideas of what you can add to your stockings. Do you have any other favorites? Comment and let us know!