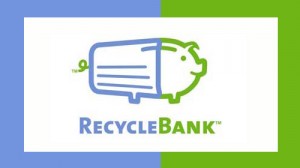 I shared about Recycle Bank with you a few months back.  Basically with Recycle Bank you earn free points for recycling or doing certain eco-friendly things.  You can then use this points you earned and redeem them for rewards.  My favorite rewards are of course the high value coupons they have available.  Right now you can add up to 165 points to your Recycle Bank account:
Add the code available here to your account for 15 points.  You can add this code 5 times for up to 75 points!
Enter code TakeSmallSteps and select Marcal in the pull down window to get another 15 points
Join the eBay Green Team, you'll earn another 50 points
That makes 165 points.  I used the points I accumulated to get coupons for FREE Happy Baby Organic puffs (worth 40 points each).  My kids are breaking the bank eating these!  They are supposed to be just for Tali but the older two love them too.
Thanks Consumer Queen!