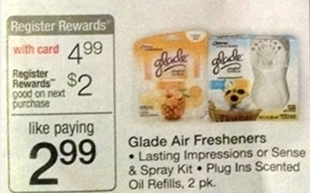 If you're a Walgreen's shopper I wanted to give you a heads up on a few deals Starting 9/15 just in case the coupons would reach their limit beforehand.  First, grab your coupons to be able to snag as low as FREE Glade Air Sense and Spray Kits!  Here's how:
Glade Sense & Spray Starter Kit – $4.99 (sale price starting 9/15)
Use $3/1 Glade  Sense & Spray Automatic Freshener Starter kit
Or $2/1 any Glade Sense & Spray starter kit OR here or  8/25 SS
Or $1/1 Glade Sense & Spray Product
Pay as low as $1.99, get back $2 RR
As low as FREE after coupon and RR!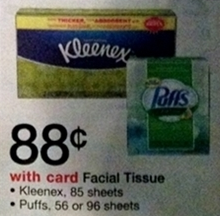 With Allergies and colds coming on we can never have enough Kleenex!  Make sure you print this $0.55 off any 3 Boxes of KLEENEX Facial Tissue printable coupon and grab the following deal starting 9/15:
Buy (3) Kleenex Facial Tissue, 85 ct – 88¢ (sale price starting 9/15)
Use $0.55 off any 3 Boxes of KLEENEX Facial Tissue
Pay $0.70 each after coupon wyb 3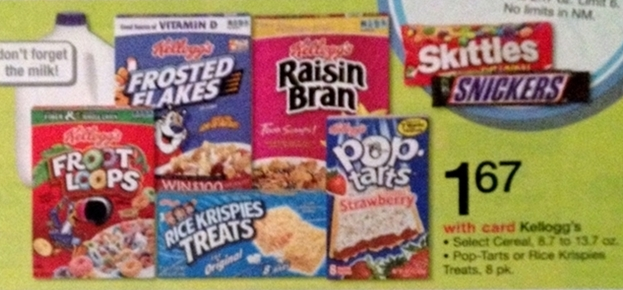 Be sure to grab these new Kellogg's coupons available for the great cereal sale starting 9/15 as well.  Here are the details:
If you don't see the coupons right away change your zip code to 53221 (see instructions below)
Buy Select Kellogg's Cereals, 8.7 to 13.7 oz – $1.67 (sale price starting 9/15)
Use $1/1 any Kellogg's cereal (8.7 oz or larger)
Pay $0.67 after coupon

Buy Select Kellogg's Pop-Tarts, 8ct box – $1.67 (sale price starting 9/15)
Use $0.70/1 Kellogg's Pop-tarts Toaster Pantries (6 ct or larger)
Pay $0.97 after coupon

Where's my coupon? If at first you don't see your zip code specific coupon follow these steps to get it:
(1) Click HERE and in the upper right hand corner there will be a SIGN IN link
(2) Log into your account with email and password
(3) Once you're logged into your account, click on "Your Profile"
(4) Change your zip code to desired zip and click on submit changes (leave the rest blank)
(5) Then come back to the coupon link provided to see your coupon
Thanks Wild for Wags and H2S