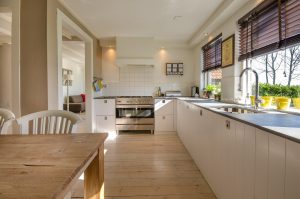 Do you need an upgrade in your kitchen? Are you afraid that it is out of your budget to make any changes? Well, guess what?! You can find some seriously awesome ways to update your kitchen with these budget friendly products. 
All of these products are priced well and will give your kitchen a great new look! Check out all of the great deals I found for you. 
Update Your Kitchen with these Budget Friendly Products
I found some great items that will help to update your kitchen, but I also wanted to mention that getting your kitchen organized is a great way to change the appearance of your kitchen (and make it more user friendly too). 
Airtight Food Storage Containers Set with Lids – What does your pantry look like when it open it up? If you would love to see it organized and easy to see what is where. This container set will go far when it comes to getting your pantry looking its best!   
Pot Rack Organizer – I cannot handle a disorganized pots and pan cabinet. That being said, it is so very easy for your cabinet full of pots, pans and lids to become disorganized. An organizer like this can go far for getting your kitchen together and your sanity saved.
Water Bottle Organizer – In my house we have a LOT of Hydroflask Water Bottles and boy does it get cluttered. I love the idea of having a water bottle organizer like this to get my cabinets more organized. 
Marble Countertop Contact Paper – We mentioned this the other day, but did you know that you can get the look of new countertops without actually buying new countertops? You totally can! They make contact paper that is for covering your countertops. 
Self Adhesive Vinyl Floor Tiles – Are you bored with your floor? You can grab some really inexpensive floor tiles like these to change the look of your kitchen easily.
During this extended time of lockdown, have you made any updates to your home? What has been your favorite DIY project so far?