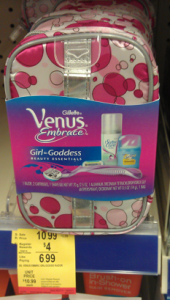 There is a good deal on these nice Venus Bonus Kits at Walgreens this week.  I like the nice little travel bag they come in and it also includes: 1 Embrace Razor, 2 Cartridges and a bonus Satin Care shave gel and a Secret deodorant.  So, here is the deal
Buy one Venus Embrace Razor with bonus kit $10.99, Get a $4 RR back
Use one $2/1 Venus Razors or Bikini Trimmers 8/28/2011 P&G Insert (exp 9/30/2011)
Pay $8.99 and get back one $4 RR
That's like paying $4.99 for one.
Sure free would be better but I have never seen women razors or even these kits for women for free.  Isn't it a little discriminatory that we see men's razors free all the time? Maybe I'll just keep using my husband's razors, that'll show 'em 😉 All right, rant over…
Thanks, Wild for Wags!