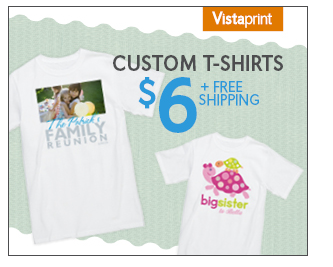 The $6 Personalized Basic T-Shirts are back from Vistaprint! This week, t-shirts from Vistaprint are on sale for just $6 shipped—just in time for all of your family events! Now is the perfect time to create a special personalized gift for:
Grandparents' Day
Favorite teacher or babysitter
Family or group get-together
Neighborhood block party
Sports team (or a mom/dad shirt to support your child's team)
Birthdays ("Birthday Boy" design) and Anniversaries
The process is so quick and easy!
GET STARTED RIGHT HERE!  exp 9/6