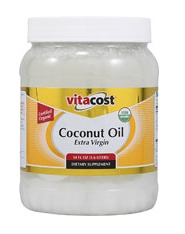 This free shipping offer has been extended through 3/19 at 9AM est.
Vitacost is currently offering free shipping when you order $20 or more of Vitacost Brand products.  There are some good deals to be had.  But may I suggest the 54oz tub of Coconut oil for $19.95?  You can add the Vitacost Vitamin C Chews for 99 cents to get your order over $20. If you have not claimed your $10 Vitacost credit you can get it shipped for only $10.94.
Here is how to get your credit:  Just sign up for a Vitacost account. Then wait for an email from them with your free $10 off coupon code. Use this code to get $10 off ANY order. Credit can't be applied towards shipping.
Thanks Rose Knows coupons!