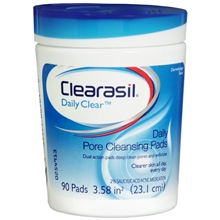 This week you can pick up some better than free with the following deal:
Select Clearasil products as low as $2.99 (face wash, the pads are $3.59), Get a $2 Register rewards when you buy one
Use $2/1 Clearasil Product printable
Use $1/1 Clearasil Product 3/13/2011 SS Insert (exp 5/13/2011)
Use $1/1 Clearasil Product 1/23/2011 SS Insert (exp 4/17/2011)
Pay as little as $0.99 out of pocket and get back $2 Register Rewards.
Note that these are the prices at my store, and prices at your may vary a little.  My husband goes through this stuff likes crazy so yay for getting it FREE!  I swear I do all my shopping for my husband, lol!
Also, if you have some Register rewards you need to spend, make sure to stop by the freezer section at your local Walgreens.  I saw some really great finds this morning.  Haagen-Dazs and Ben N Jerry pints for as low as $1.19.  I was very tempted, but I resisted ;-).  But also clearance on Lean Cuisine meals and much more and a lot of the food was as much as 75% off.